WORK / BWC FINANCIAL GROUP 
Generating Regional Sales Leads for an integrated commercial development in Zhuhai, China
Properties Growth Marketing /
Real Estate Lead Generation /
Hengqin iCity, helmed by property developer BWC Financial Group, is one of the seven first real estate projects given the green light to begin construction in the Hengqin Guangdong-Macao Co-operation Industrial Park in year 2014.
Comprising of six office blocks and dominated by a sprawling arts-and-culture central complex, the 56,000 sq m site is destined to become a Zhuhai landmark for competitive techies and creatives. Our job, was to help pass this message on to potential outside-China buyers in Hong Kong, Macau, Taiwan and Malaysia, and try to convert them to buying a unit.
Coming into the project before any branding was developed, our job was to craft a landing page plus a series of FB ads to woo above-30 potential property buyers in the region. We tested different creatives over several months, using different combinations of copies, CTAs, video, graphic, and renderings, and made two discoveries: first, 6-second videos were the best contender in taking visitors to fill a form; second, non-Macanese required more in-depth introduction to the region for engagement.
With further AB testing applied to target groups in different regions, we were able to single out the creatives with highest engagement as a base to uncover lookalike FB audience. Meanwhile, we crafted and ran an email campaign over 7 days and applied criteria to draw quality leads while retargeting lesser leads with another ad that "warms" them to development and pricing trends of the Henqin region.
Conversion rate was outstanding, 30% of those who filled the form, got in touch with the sales office. Given cost per lead is HK$500 industry price (Facebook ad). Our highly targeted method of fine-tuning / testing method has reduced the cost-per-lead around $55.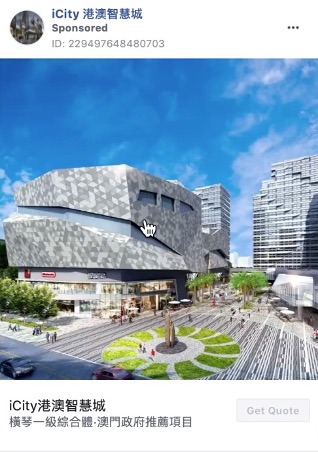 iCity Facebook Video Ad Sample
One of the dozens of video ads we created for iCity targeted at Hong Kong, Macau, Taiwan and Malaysian audience with different needs.
(click on image to watch the video)
iCity Facebook Video Ad Sample
This is a 6-second ad. Turned out the 6-second ad performed the best among the 10 different creatives tested.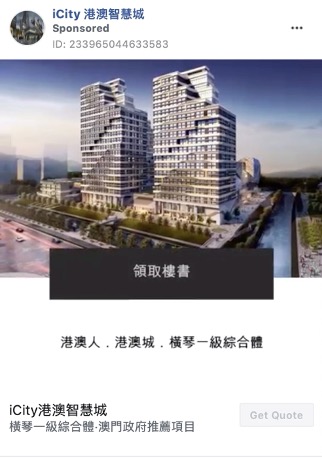 Translation & Transcreation
Straight.
But not linear.